Bass Fishing
---
Home of the Costa Bass Fishing Community. Stay up-to-date with our pros, events, and all things bass fishing. More anglers have learned to fish in freshwater than all the other forms of fishing combined. This is where the passion starts for many, adventures are endless, and your next fishing trip is just a cast away.
---
MEET COSTA BASS FISHING PROS
Costa has a pro staff that stretches across the country with a wide variety of personalities and accents. What ties us all together is our passion fishing and sharing that inspiration with others.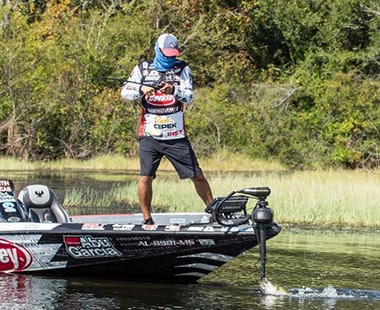 JUSTIN LUCAS
Justin Lucas now lives in Guntersville, AL, but California is where he was born and raised. He may be young, but he fishes like a seasoned veteran.

Justin Lucas wearing Corbina, Matte Black, Green Mirror.
GET DETAILS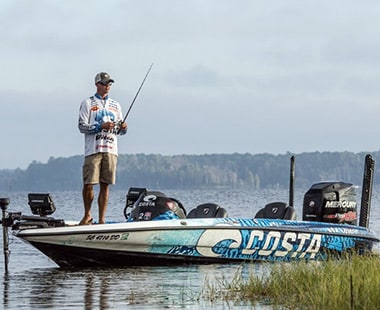 CASEY ASHLEY
Casey Ashley is our titled angler fishing on the Bassmaster Elite Series. With a laid-back personality and love for the outdoors, Casey truly embodies the Costa angler. He is a fierce competitor on the water, but off the water he's known for his talented voice as a country singer.

Casey Ashley wearing Fantail, Matte Black, Silver Mirror.
GET DETAILS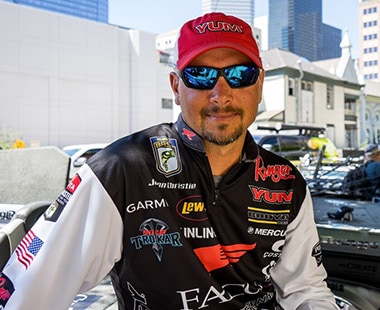 JASON CHRISTIE
Jason Christie resides in Park Hill, OK. With numerous FLW Tour and Bassmaster Elite Series wins, he is one of the most versatile anglers on tour. No matter what species of bass you are fishing for, you can bet he will pose a real threat to his competitors.

Jason Christie wearing Tuna Alley, Matte Black, Blue Mirror.
GET DETAILS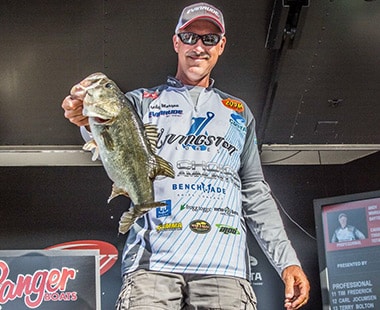 ANDY MORGAN
Andy Morgan has qualified for more Top 10s than anyone else in fishing with over 70 to his name. As a former FLW Tour Angler of the Year, there's never a tournament where you can count him out.

Andy Morgan wearing Fantail, Matte Black, Silver Mirror.
GET DETAILS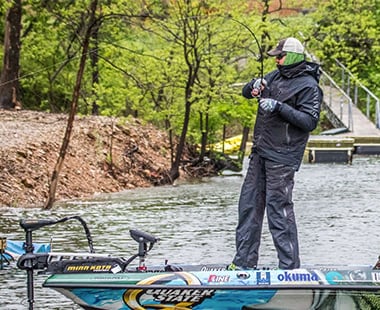 MATT AREY
Matt Arey is one of the most consistent anglers around; however, when it comes to highland reserves, he is absolutely deadly. His back to back wins at two FLW tour events on Beaver Lake are proof enough.

Matt Arey wearing Tuna Alley, Blackout, Sunrise Silver Mirror.
GET DETAILS
---
BASS FISHING VIDEOS
Get tips from top touring pros on why and how Costas make a difference for them on the water.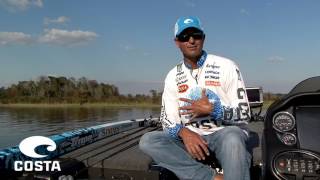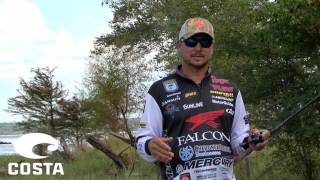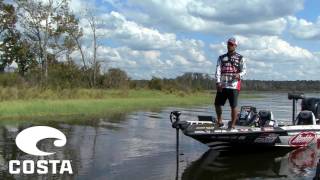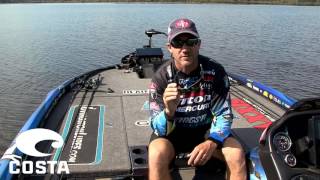 BUILT FOR BASS FISHING