Protect Guyana
Costa is on a mission to protect the world's waters by promoting sport fishing. This sport is environmentally friendly, sustainable and native to local cultures. In the rivers and ponds of Guyana's unspoiled rain forest, we found a place where sport fishing can preserve the country's natural resources and culture by supporting its indigenous peoples in a responsible way.
The Country
Guyana: Land of Many Waters
The South American nation of Guyana is a seemingly endless tapestry of uncharted rivers and ponds. Its otherworldly mountains were the inspiration for Conan Doyle's The Lost World, and its pristine rain forest is teeming with exotic species of fish and wildlife. Despite having passed low-carbon legislation, this English-speaking nation has struggled to balance economic development with conservation.
The Rainforest
Eighty percent of Guyana's territory is part of the largest rain forest in the world, the Amazon. It's the most ecologically diverse place on Earth.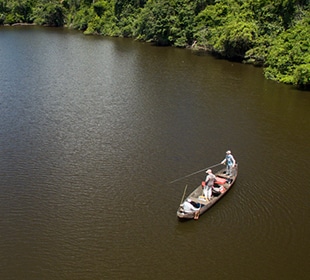 The Waters
Most of Guyana's rivers and ponds have remained unexplored. This is a staggering fact when you consider that 15% of the world's fresh water comes from Guyana.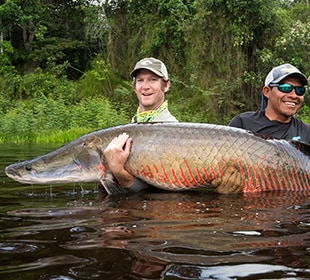 The Sport Fishing
Despite its abundant, pristine waters and incredible wildlife, sport fishing has not yet taken hold in Guyana.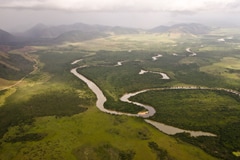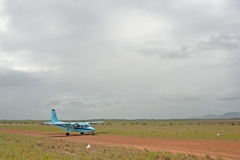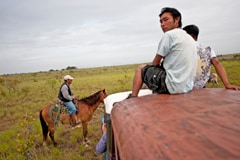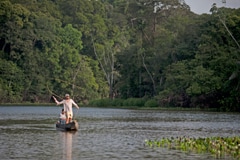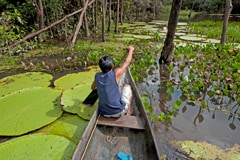 ---
The People
The People of Guyana
Some 95% of Guyana's 750,000 citizens live on a tiny little sliver of the coast, about a third of whom live in its capitol, Georgetown. Guyana's official language is English, but there are a dozen recognized regional languages, including Portugese, Spanish and Carib. Twenty percent of the nation's population is comprised of a group known as the Amerindians, Guyana's original inhabitants.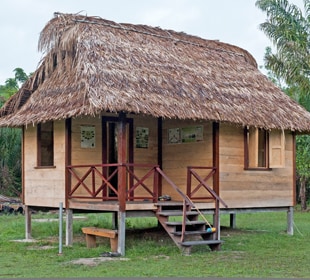 The Amerindians
Life has become increasingly difficult for Guyana's original inhabitants, the proud Amerindians. The rain forest they call home is remote and practically devoid of modern conveniences. And their culture, like the rain forest itself, is endangered.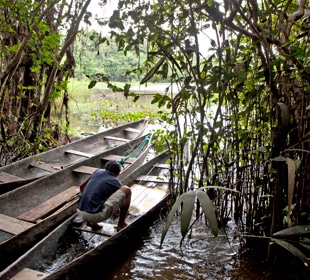 A Fishing Culture
Amerindians have been fishing the waters of Guyana for centuries. Today, many of them still fish with the simple bows and lines their ancestors developed generations ago.
Fishing Guides
Costa launched an ambitious project to establish a sport fishing industry in Guyana, including the training of fishing guides in Rewa. Now there are a number of excellent, English-speaking guides who have grown up in the village and know the waters.
---
The Arapaima
The world's largest freshwater fish, arapaima can weigh over 800 pounds and reach lengths of up to 10 feet. Unfortunately, they've been overfished commercially and are currently a threatened species.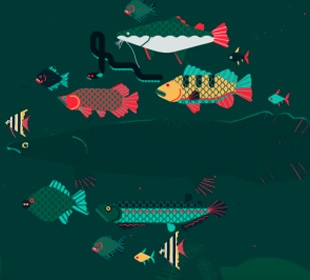 A Swimming Dinosaur
Arapaimas have changed very little in 150 million years and are considered a living fossil.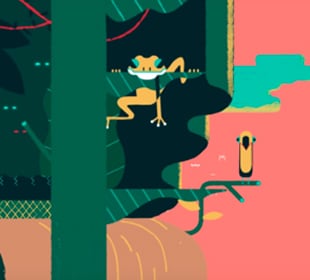 What They Eat
Arapaimas are predators and eat peacock bass, arowanas and even small land animals and birds.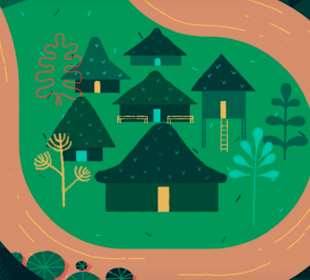 Where to Catch Them
South America is one place in the world where arapaimas still live in the wild. And Rewa Village is the only place where they've been caught on a fly rod.
---
The Film
The Fate of a People Is Tied to a Fly Rod
This documentary follows three fishermen on an epic voyage into the heart of Guyana's untamed jungle. Their mission: to prove that the world's largest freshwater fish—the arapaima—can be caught with a fly. If they succeed, it'll mean a brighter future for the Amerindians, the rain forest they call home—and for the threatened arapaima itself.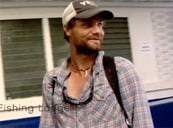 Oliver White
Owner, Abaco Fishing Lodge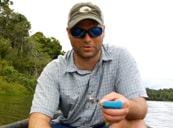 Nathan Webber
Professional Angler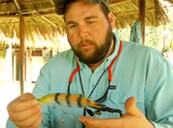 Matt Breuer
Guide, Ponoi River Co.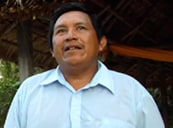 Rudolph Edwards
Lodge Manager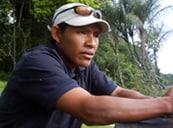 Watch Full Film
---
Gallery
We've had our share of adventures in Guyana. And we took pictures. So pack up your gear, and visit the Rewa Eco Lodge and come face to face with an arapaima.